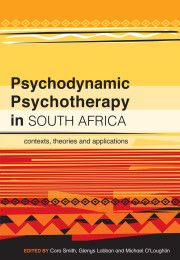 The fascinating Adler Museum of Medicine was the venue for the launch of Psychodynamic Psychotherapy in South Africa, edited by Prof Cora Smith, Dr Glenys Lobban and Prof Michael O'Loughlin. It might sound like a book aimed only at academics, students and psychotherapy practitioners, but this latest title from Wits University Press is meant to appeal to non-medical readers as well. It is described as a must-read for anyone concerned with individual and social change in the South African context and challenges readers to think beneath the surface of South African life.
Professor Cora Smith, one of the editors of this collection, told the launch guests that the book was suggested by Dr Glenys Lobban, who graduated from Wits with a Master's Degree and went on to do her PhD in Psychoanalytic Studies at New York University. When she returned to South Africa, she made a generous donation to the Wits Medical School and was most impressed with the psychodynamic work being done locally, which led to her suggesting that it be published. Professor Smith approached a number of her colleagues and asked if they would be prepared to share their work.
She described how there has been little formal training in classical psychoanalysis in South Africa and that the vast majority of South Africans could not afford expensive long-term training, or indeed psychoanalysis. Practitioners have had to adapt their models of psychodynamic therapy and adjust their concepts to a diverse context, which they have developed as part of their practice and training.
This has proved to be a positive influence as most countries face financial restrictions and the limitations of managed health care and are now seeking short-term psychodynamic psychotherapy models. Also, with the advent of the digital age, young people have less patience for long-term methods and seek shorter term treatments with quicker results. Globally, the reality of multiculturalism requires psychotherapy models that are more sensitive to diversity. This global pressure to produce effective short-term psychodynamic models in diverse cultural, religious, ethnic and racial contexts has meant that South Africa has come into its own in this area.
Professor Smith described the work of the ten contributors to this publication, who have done work in areas ranging from race and racism, violence, crime and trauma, the relationship between classical psychoanalytic psychotherapy and traditional healing practices, gender relations and domestic violence, serial murder and AIDS orphans, to dealing with post-conflict trauma. She gave special thanks to the dean of the Faculty of Health Sciences, Professor Ahmed Wadee, for his full support for the project, and to the Wadee Trust who provided half the finances for the project, along with the Faculty.
Lastly, she thanked all the patients whose case studies make up this volume. "Grateful thanks to our patients for sharing their lives and their pain with us and for teaching us what we know."
Professor Wadee said that this publication represents a major achievement for the Faculty. He was most impressed by the indigenous knowledge it contains and how it puts things in perspective.
Facebook gallery
Book details
» read article