Our Singular Focus is to Get the Academic Programme on Track – Adam Habib on #NationalShutDown (Video)

Yesterday, the Minister for Higher Education and Training Blade Nzimande convened a press conference to respond to the current wave of student protests across the country – the #FeesMustFall and #NationalShutDown movements.
Professor Adam Habib, vice-chancellor of Wits University and author of South Africa's Suspended Revolution, was present in his capacity as chairperson of Universities South Africa.
Habib explained that the Department of Higher Education and Training and the university sector have come together to find a quick solution to the students' grievances and to put a system in place to resolve all issues over the long run. He stressed the importance of resuming classes, explaining that it would be "really horrendous for the system, horrendous for poor people in this country" if students were affected negatively in their examinations.
"As a collective of stakeholders we are saying we are going to open up the process of institutional negotiation," he said. "The goal of that institutional negotiation must not be higher than the CPI related 6 percent increase – that's what it says, that we're opening up and creating a framework for that to happen."
"The university sector and the department are going to get together to enable that to happen. That doesn't close the issue of upfront registration fee," he said in response to a journalist's question.
"We came together as stakeholders, and this is a possible route to resolving it," Habib said. "Our singular focus today should be to get the academic programme on track."
Watch the video: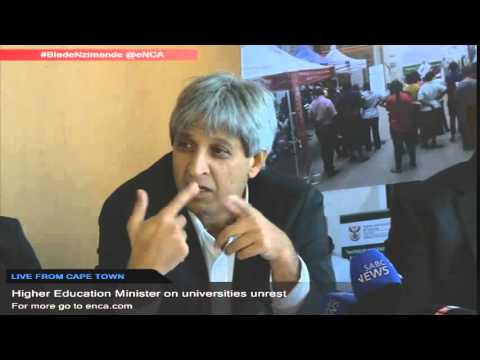 Also read:
Book details